So I've been playing FM 09 quite a bit recently, and this forum is dead anyway, so why not share my career with all of you, maybe it'll inspire you to play your games, or maybe you could just advise me about stuff. Before I start with the actual career diary, though, a disclaimer: My very first game crashed midway through the first season and I got so pissed that I just went to the editor, gave Chelsea the players I had signed and re-started (and gave me more money because I'm jewish). Oh, and I'm playing with the newest patch.
So, started with Chelsea, told them I'd be winning the league.
Transfers
Well, I had signed Huntelaar, Modric and Sneijder in the previous game, so I had those from the get-go (now you know why I was so pissed, it took a lot of praising and haggling to get them). Anyway, I wanted to start rejuvenating the squad, what with guys like Ballack, Deco, Belleti being in their 30's and still some of my best options. After some of my original targets became too expensive, I signed Yury Zhrikov from CSKA Moscow for 14.75m (euros) and Philip Lahm from Bayern for 27m. In mid-July I off-loaded Paulo Ferreira to Sunderland for 5m and Belleti to Manchester City for 8m. Man City had a ******* hard-on for everyone in my squad. I had to reject some big offers for guys like Terry and Cole, and in the end they settled for my reserves. They came in with around a 20m offer for Malouda, who was performing well in pre-season, and I didn't want to sell so I asked for 50m, since Malouda wanted to hold talks and I figured they wouldn't go that far. But they did. For some reason they also wanted Liam Bridcutt after I gave some of my Reserves a few starts in pre-season, to see what I had. I remembered Bridcutt doing well after a few seasons in my old FM06 game, so I again raised the asking price, and they accepted. In the end City had bought 3 of my players for a combined worth of 63.5m. (Btw, I gave them like 150m because the game only gave them like 50, despite the huge takeover)
I spent most of that money on a reserve keeper. My original target was Rene Adler, but Leverkusen wanted an arm and a leg, so I settled for a cheaper great keeper, my FM 06 star, Igor Akinfeev, for 28m. I then bought Darijo Srna for 16m to make up for the loss of my two RBs. By then I'd realised that my reserves sucked, so I had a look around and brought in Rodney Sneijder and Carlos Rodwell for around 6m. In the January window I did the same, and brought in John Bostock and Damien Le Tallec for 3.5m. Regarding the Le Tallec signing, it was actually a mistake. When I looked at my scouts' reports, it said that the report for Tallec was 14 days old, and I thought it said that he was 14 for some reason, so that plus his decent stats and 4/5 potential made me jump on him, only to see that he was actually 18. I figure I'll give him a try and then just make a profit. Guy's giving me a headache though, saying that he can't settle into the air. **** that, his brother came to England and did just fine. I also ended Quaresma's loan deal because I had Sneijder, Zhirkov, Modric, Cole and Kalou to play on the wings, with Srna another possibility, so I didn't need him.
None of the other top clubs made any signings although Arsenal brought in a few guys in January, and City brought in a lot of quality players, they actually assembled a very good squad.
The Formation:
The formation really changed all the time. I sometimes took out the AMC and put in another ST. Other times I'd move the AMC back. Because the guys were quite versatile, I could tinker with who got to play quite a lot. I played with the team tactics quite a bit, going from a lot of creative freedom to little, and really changing everything a few times. I used this tactic mostly in the final stages, after deciding to stop using target-men and use playmakers like I did in FM06, having all the attacking midfield as playmakers, with the MC/AMC being the top choices.
The League:
I had a pretty erratic start, with a few good wins, as well as some disappointing ties and an embarrassing loss to West Brom. It soon came down to just ManU and us, with Liverpool, Arsenal and Man City chasing us. Unfortunately, a tie with West Ham and a loss to ManU gave them a 6 point lead and I had to chase them for a while. Thankfully, other teams managed to stop them, and for a while we were tied on points. I gradually managed to break away, and finally had a 9 pts lead at one point. They managed to cut it down to 7, but 4 matches away from the end it was settled, and we were champions.
By Jan it became clear that teams had to fight for a CL place, as to get the actual league would a tough job. City never had big problems due to their spending, and a few ties and small wins changed into a really good run that saw them beat ManU and Liverpool, and they actually sat at 3rd, and were within a win away from 2nd, but they tied their last two matches, and ended 4th. I was very surprised with Arsenal, because they were 1st in Jan in the demo game I played. Anyway, they were pretty good for a while and then lost form and around February lost their CL place to City. At one point there was a 7 point gap between them two, but Arsenal closed it down, although they still ended 5th. There was a HUGE gap pretty much all along between the Top 5 and everyone else. Actually a single win for anyone between 8th and 18th could send you to the top or to the bottom depending on who you were. For example, Villa had a UEFA place, relegation place, 10th place, 13th, and finally ended very low. Same goes for Fulham, West Brom, Blackburn and pretty much everyone. Middlesbrough and Stoke were doomed from the start and it's a shame for Boro because they actually played well in their last few matches. Hull finally fell and were sentenced to he 2nd division after they had to face us, Pool and Arsenal away from home in their last 4 matches. They also got a disappointing tie with Boro near the end which sentenced their position.
West Brom looked impressive at first, but soon succumbed and ended 13th. Bolton were the most consistent team, getting mostly ties and slowly ascending.
Domestic Cups
The League Cup started with a 3 - 0 win over Derby. We then had pretty bad results against Birmingham and Aston Villa with 1 - 0 due to playing weakened sides. We beat Tottenham 7 -0 aggregate though. I was looking forward to getting my first silverware, which I figured was a cert, but wound up losing 4 - 2 to ManU. Rooney scored a brace, both of which were equalised, Tevez and Ronaldo scored two in the final minutes and it was too late. Pretty big disappointment.
The FA cup was an even bigger mess. Our first draw was Arsenal, who battled us to a 1 - 1 draw which went to a shoot-out. I'll say this about my squad, they pwn penalties. Not a single miss, and Cech put in like 5 penalty saves throught the season. We wound up winning 7-6 with Cech parrying Diaby's shot and Sneijder coolly slotting it in. We then beat Blackburn 3 - 0, but that was it for us. We drew City, and I was mighty pissed. I only got Prem teams whereas everyone else was getting to face ****s like Bristol City. I'll never understand how they did it, because we dominated from start to finish, but Robinho gave them a lead and Bridge sentenced it from a free kick to send us packing. Two big disappointments in around 2 weeks time. City would go on to beat ManU and West Brom only to lose on penalties to Newcastle who had failed to do ANYTHING noteworthy in the season. Good for the, though. ****s.
Europe
I had high hopes for the Champions League, and set my sights on becoming the first manager to Chelsea the title. We drew a pretty easy group, with Anderlecht, Sporting and Zenit, and got big wins against all of them. However, we also tied with Zenit and lost to Sporting early on, which allowed Sporting to end up 1st of the group. This pitted us against Real Madriid who we defeated 2-0 at home only to lose 2-1 away. Still, we had defeated the top contender for the title, and it felt good to shut up Juande, who had been unsettling all of my players. Pool beat Barcelona so it was looking good, I had recorded a win against anyone who had a chance to win, excpet for one team. ManU. Bastards drew us in the next round and we dominated the first leg only to lose 3-2 away. Still, I was hopeful. But Carvalho had gotten a red card that match and Alex was unfit, so even though we dominated again, and led for most of the match, they tied it, and we were out. I am yet to beat ManU, it stands at 3 wins and two draws for the ****s. I was only in contention for one title, although by now I had a 6 pts lead in the league, so I was fairly certain that I wouldn't end the season empty-handed. Still, 3 disappointing cup runs ended by two Manchester clubs. My objective for next season is to finally get a win over ManU.
Anyway, ManU then beat Sporting in the semis and met Arsenal in the second all-English final in two years. Wenger's guys had an easy run, really, facing Roma, Standard and Rangers in the Group stages, and then Olympiakos, Inter and Juve in that order. They scored the first goal in the final, but two from ManU gave the Red Devils their second piece of the season.
In the UEFA Cup, I can't be arsed to discuss it really. Valencia beat Milan in the Semis and Ajax beat Kiev. Valencia took it with a 3-2 win.
I really haven't bothered to keep up with what else is happening in Europe, but here's how it ended:
Germany
Top Goalscorers:
Luca Toni (Bayern) - 22
Claudio Pizarro (Bremen) - 20
Ivica Olic (HSV) - 18
Edin Dzeko (Wolfsburg) - 18
Leverkusen beat Bayern 2-0 in the German Cup.
Italy
Top Goalscorers:
Martin Palermo (Reggina) - 17
Amauri (Juventus) - 16
Kaka (Milan) - 16
Milan beat Fiorentina 2-1 in extra-time in the Italian Cup.
Spain
Top Goalscorers:
Ruud van Nistelrooy (R.Madrid) - 23
Maxi Rodriguez (At. Madrid) - 19
Freddy Kanoute (Sevilla) - 19
Real Madrid also beat Valencia 4-2 agreggate in the Super Cup, and Barcelona 1-1 on penalties in the Copa del Rey. Good year for Madrid, despite having a Carlos-off manager and losing Sneijder and Huntelaar.
Squad Performance: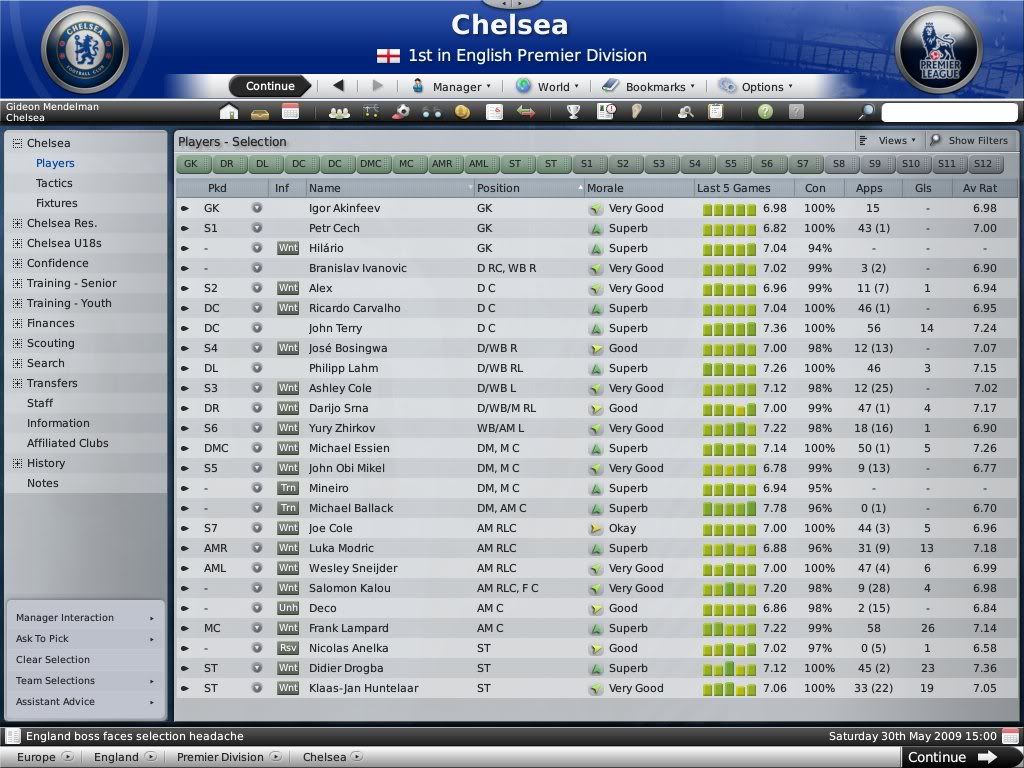 Srna proved to be a fantastic purchase, with a huge number of assists and a few goals as well. He took Cole's spot in the squad and kept Bonsigwa out of it for the entire season, he also never got injured I think, or if he did, it was barely noticeable. Great, great buy. Akinfeev played well whenever I played him, and he is yet to concede. 1045 minutes of no goals, although the dumbass handled the ball (for no reason) outside the area in the last match and got a red. Sneijder missed a few matches due to injury, and overall had and OK season. It wasn't as great as I thought it could be, but he still played well. Modric was really good when he played but he's way too injury-prone. It's a shame, I'd imagine that with him we might have done better in the CL. He missed both Quarters. Huntelaar was unimpressive at first and then started scoring. Neither he nor Drogba were very consistent, although they still scored quite a few between them, they both had goal droughts, with Huntelaar's ending after 11 hours, and Drogba ending his with a hat-trick after 13. Thank God for Srna. The man scored a few as well as give Terry all his goals, and with a few coming from the midfield, allowing Lamps to become the No. 1 scorer, we did fine.
Essien was very consistent, although never really starred. Terry and Carvalho were good in defense, so good that both Alex and Ivanovic looked like they might leave for lack of play. Alex got his time though. Ivanovic wanted out and after a while requested to be taken off the transfer list, so I fell a bit of sympathy and gave him a match or two. Lahm was really good, and scored a few goals by cutting inside. Ashley Cole and Bosingwa played quite well when Lahm and Srna were unavailable. Bosingwa is still not quite blending, although I'm sure that he'll get there soon. Neither Ballack, Anelka nor Deco got much opportunities. Whenever the midfield was lacking I'd prefer to play Huntelaar and Drogba together. They all wanted more time, and Ballack wanted to have a key role as well as high wages, so he wound up signing for Lyon mid-season for a free. I didn't give Anelka enough chances, and if Huntelaar remains as injury-free, he might not get it next season either. Even though Deco is old and I'll sell him if a good offer comes, I played him a few times, and I'm hoping that he'll be fully-blended to become a good sub for Lamps/Modric/Sneijder.
Zhirkov took a while to blend, especially because of two long injuries, but the same happened to all of my other wingers, so he got enough time, and was quite good. I've got hopes for him. Cole and Sneijder were my starting wingers, with Modric sometimes taking Cole's place. Cole wasn't very impressive, and had a few spells of bad form, and he gave me trouble for wanting to hold talks with Madrid, but injuries and the fact that he was my best winger guaranteed his spot. He didn't do too bad either, just never wowed me. Although to be fair, no one really did. Few players had really impressive showings. Both Kalou and Mikel were good when needed. Kalou seemed to have this ability to score from crosses and give me 1-0 wins in a bad run towards the end.
Loans, Reserves, Youngsters & the Future
Milan wanted to sign Shevchenko when his loan was up, and paid the 10m agreed fee, but he rejected the deal, and wound up returning. I'm not planning on using him, especially when I might sell Anelka as well and bring in someone with a future. Have set an asking price at 12m for now, we'll see how this one goes. Pizarro had a good season at Bremen, bagging 20 goals, but I won't be needing him either, and City signed him for 14m mid-season. There's not much promise in the youngsters, I had to bring in the most talented guys. Of the guys who were there, Woods might become something after a successful spell at Soton. Carlos Cork played well for Watford and has potential as well. Mancienne, Di Santo, Kakuta and van Aanholt are all guys who I'm keeping my fingers crossed for. The guy with the most potential is the guy I edited in, basically me in the game, who I gave a -10 potential and some decent stats. I might let him go out on a loan soon, but I want to keep him under my eye because of his 7 star potential. (I don't care if this is cheating, it's my game) I also never used Mineiro and he's going to Cruzeiro for a free, and Lee Sawyer signed with Celtic and will be joining them too.
I'm currently chasing a few guys for the next season. ManU didn't renew Ben Foster's contract, so I've signed him as back-up keeper in May for a free, which is one of the buys I'm most proud of, it'll let me free Hilario, who hasn't got any time, for someone with actual potential. I'm also looking for a DC so I can let Ivanovic go, or at least in case he decides to give me trouble again. I'm currently in talks with PSG for Mamadou Sarkho, my last offer being 12m. I've been working on signing Jonny Evans from ManU for a while now, but although he wants to sign, they won't accept any offers. I'm currently in around 20m, and it's why I've started looking at Sarkho and Ben-Haim. Ben-Haim has been good at Sunderland, and City want to hold on to him. Madrid's bidding for him and although I'd rather sell Deco or keep him, they've accepted 5m plus Deco. I can see this one going through, although I'm wary of having Ben-Haim sign as a Rotation player. He's gonna be my 4th pick, and I would've offered him a Back-up deal, but I wouldn't be able to meet his wage demands. We'll have to see if he does actually sign.
I also signed a left-back named Bernd Pohl, who I think is a regen because he has one of those dumbass faces. He's 16 and has potential. Signed him from Bremen for 3m and Nathan Delfouenso from Villa for 1.5m. Also got Havard Nortdveit from Arsenal for 6m, and I'm hoping to have a good crop of guys to step up when some of my squad either leave or retire. With these guys there's promise anyway. I'm also in talks with Carlos Wilshere. Arsenal originally accepted an 18m offer, but he rejected the contract. I'm trying to work him and am in talks with Arsenal again, trying to get a lower deal, although they're stubborn, and he wants to be a first teamer. A two week saga trying to sign Welbeck from ManU ended when he refused to sign because I wouldn't let him be a first teamer.
So, I think that's about it. That's what's going right now, I'm in early June, and I'll update soon, I guess. Any comments appreciated.